Retro

Football Shirts
There's nothing quite like a retro football shirt. The classic shirts of days gone by remind us of the glory days when all was good in the world - except that time in the 90's when Blackburn Rovers won the Premier League!
Certain vintage football shirts can remind you of a specific game that you watched with your loved ones. It may have been in the comfort of your own living room or you might have been lucky enough to be in the stadium - either way, one thing's for sure: retro shirts evoke a feeling that can't be replaced.
Here at MysteryFootball, we know just how valuable that feeling is. That's why we have a wide range of authentic retro football shirts from teams across the world and in various leagues. You may want an iconic design of your favourite team's shirt or one from a random football team via a mystery shirt box - either way, we have a huge collection of football shirts with retro designs that will fill you with that wave of nostalgia.

Filter
Best selling
Featured
Best selling
Alphabetically, A-Z
Alphabetically, Z-A
Price, low to high
Price, high to low
Date, old to new
Date, new to old
Showing 12 of 39 Product
Retro Football Shirts: Will You Wear It Better?
As impressive as some football shirts are, sometimes it's not about the design - it's about who wore it! We all had that one player who was our hero. When we look back with fondness, yes, we see the player but we also see the kit they wore.
It may have been John Barnes in his iconic Candy shirt during his time at Liverpool, or Thierry Henry in that burgundy Arsenal shirt with the big O2 sponsor in the centre - they're unforgettable for a reason.
Plus, who can forget Gazza sobbing into his shirt during the 1990 World Cup. If you end up wearing one of the best football kits of all time - at least in our opinion - let's hope you don't end up in a similar state!
Or maybe you prefer the look of one of the shirts from International teams. Does Ronaldo's (the original one, that is) Brazilian shirt take your fancy or do you prefer the style of the iconic blue and white striped Argentina shirt worn by the likes of Maradona? Either way, you can't deny they are some of the best international football shirts ever!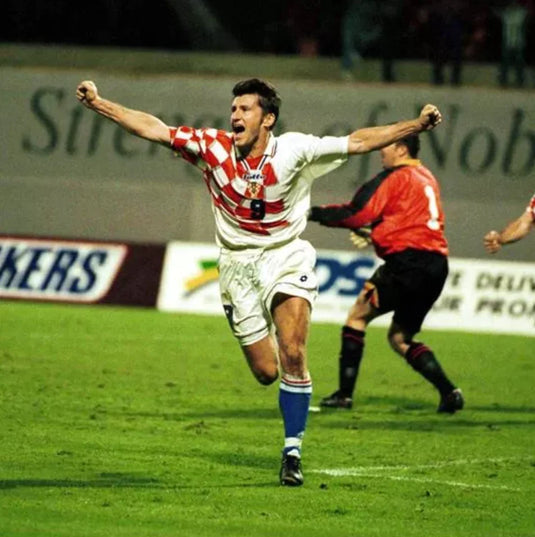 Retro by Name, Iconic by Nature
When you hear 'retro football shirt', what do you think of? We understand that retro can mean something different to everyone - especially those of you born in the 2000's! 
Yes, retro can mean a certain period in time like the glory days of the 90's, but when you think of it in terms of football shirts, only one phrase should come to mind: iconic. 
We love vintage football shirts because of what they represent: a nail-biting match, a spectacular season, or that one Heaven-sent player who just couldn't be beat. All that emotion bottled inside one classic football shirt! 
With us, you can trust that you won't get any replicas - only a 100% authentic shirt. 
Image Source: Balls
That Vintage Football Shirt, It's a Keeper
We have a selection of retro shirts from teams and leagues around the world. So whether you're after a Premier League classic or a shirt from international leagues such as Serie A or La Liga, we have something for you.
Plus,sometimes we even manage to get our hands on the rarest shirts out there! With these incredibly retro designs, you can be sure you'll stand out from the crowd.
There really is nowhere better to build out your collection. Shop with MysteryFootball today!