German

Football Shirts
If you're looking for German football shirts, you've come to the right place! Whether you want a Bundesliga football shirt or one from the national team, with a German football shirt you're sure to stand out from the crowd, but maybe not for the best reason…
The long-standing rivalry between England and Germany may leave you wondering why you'd even want a German football shirt. But if you're going on holiday to one of the cities, going to watch the team play, or just support a German team, there's no better place to find your shirt than MysteryFootball!
We have a wide range of German football shirts. So, if you want to show your support for Bayern Munich, Borussia Dortmund, or another of the country's football teams, we have some iconic shirts for you to pick from.
If you'd rather get a random shirt, why not pick one of our National Mystery Football Shirt boxes? You could get a national team shirt from any country - including Germany!
German Football Shirts That Will Make You Say Jaaas!
Germany's iconic monochromatic shirts can be recognised anywhere. Adidas has designed the shirts since 1954 and continues to make some of the best international football shirts about!
In the 90s, the traditional black and white colours were joined by yellow and red as a nod to the country's flag. 
Typically the colours were presented as abstract lines or diamonds, but now the geometric patterns of the past have been updated to elegant and sleek motifs like stripes. 
The long-standing rivalry between the English and German football teams started way back, but it's likely England's win at the 1966 World Cup final sealed the deal! 
Germany's run of wins against England since then has started to decline in recent years - maybe the team needs to go back to its funky fashion of the 90s and it will start winning again! Or at least make their games a bit more challenging… 
Since 1996, the national shirt has featured three stars above the crest to represent the country's World Cup titles - 1954, 1974, 1990. A fourth star was added after its 2014 win.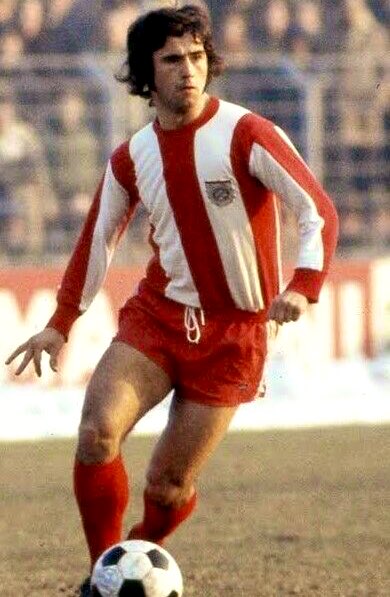 The Big 6-0 for the Bundesliga! 
The Bundesliga is a German league that officially started on 24 August 1963. Celebrating its 60 year anniversary in 2023, the Bundesliga has featured more than 56 teams! 
However, when compared to other European counterparts such as the Premier League or Serie A, only 18 teams compete each season, rather than 20. 
In a similar system to other European leagues, the bottom two teams of Bundesliga are relegated to the second league - 2. Bundesliga - with the two top teams from 2. Bundesliga taking their place. 
You won't be surprised to hear that Bayern Munich has been crowned winners of the title more than half of the 60 seasons! Other notable champions of the league include Borussia Dortmund, Wolfsburg, and Stuttgart. 
Borussia Dortmund's iconic neon yellow and black kit from the 96/97 season even made our list of the Best Football Kits of All Time. 
As home to some of the best Bundesliga football shirts, there's no better place to bag your next shirt than MysteryFootball!
Image source: X
Don't Pass On One of Our German Football Shirts
Here at MysteryFootball, we have a wide selection of German football shirts from various teams. So, if you want a national shirt or one from one of the Bundesliga teams, we have a shirt for you!
Sometimes, we even manage to get our hands on some of the world's rarest football shirts. Over the years there have been so many amazing designs, there's bound to be a German football shirt for you that gets heads turning!
You can get just that in our Mystery Football Shirt box - you can get a shirt from any team, in any league, in any country, including Germany! Ready to take your chance?
There really is nowhere better to build out your football shirt collection. Shop with MysteryFootball today!